Hello all my lovely people
I'm back with another outfit post. I know, I have been gone since last thursday, but I have good news! I will be posting more often. Nothing, has really changed in my daily activities, however the blog has become more of a therapeutic stress relief. Without it, I don't get the short vacations that are well needed from work and school.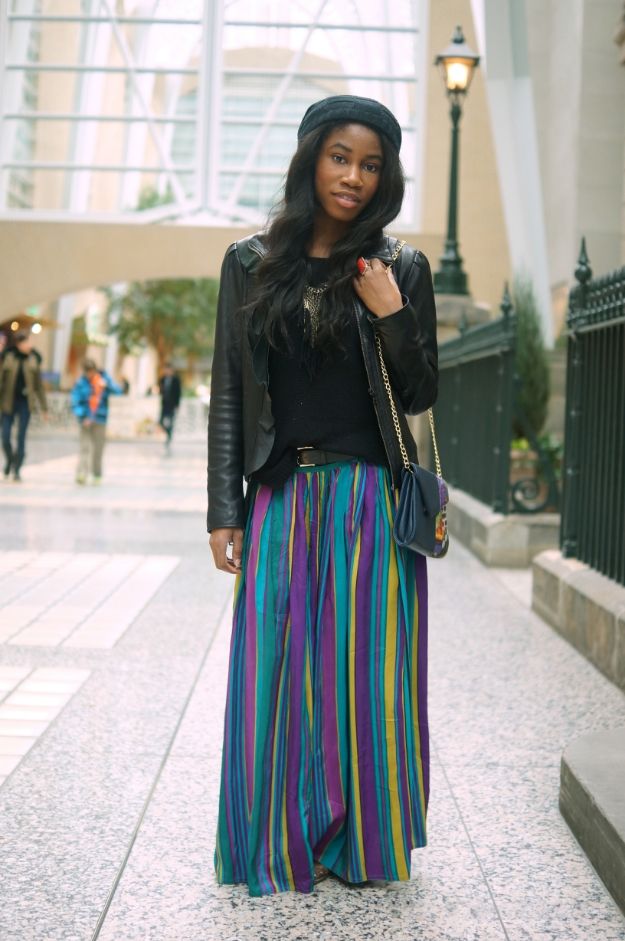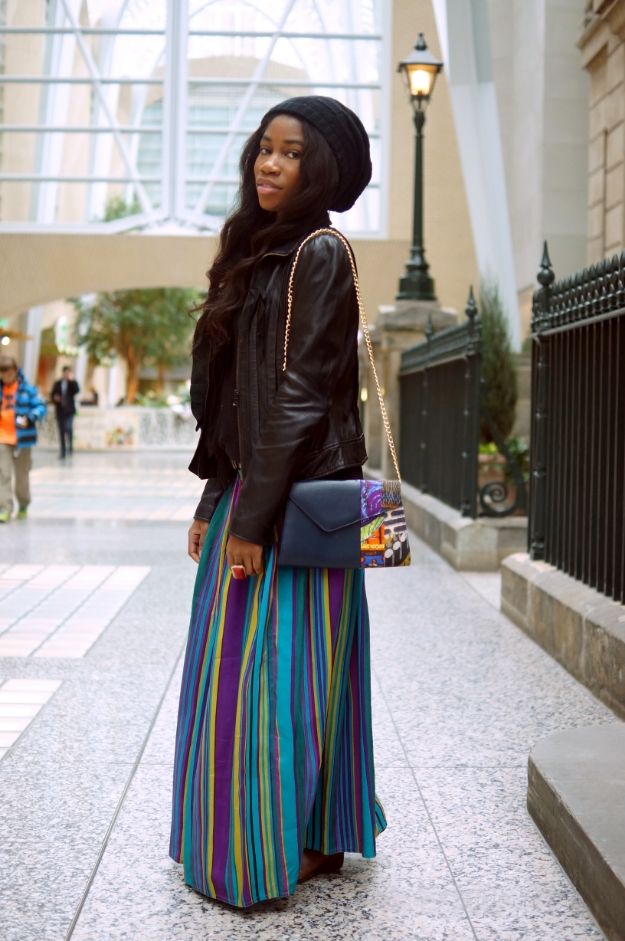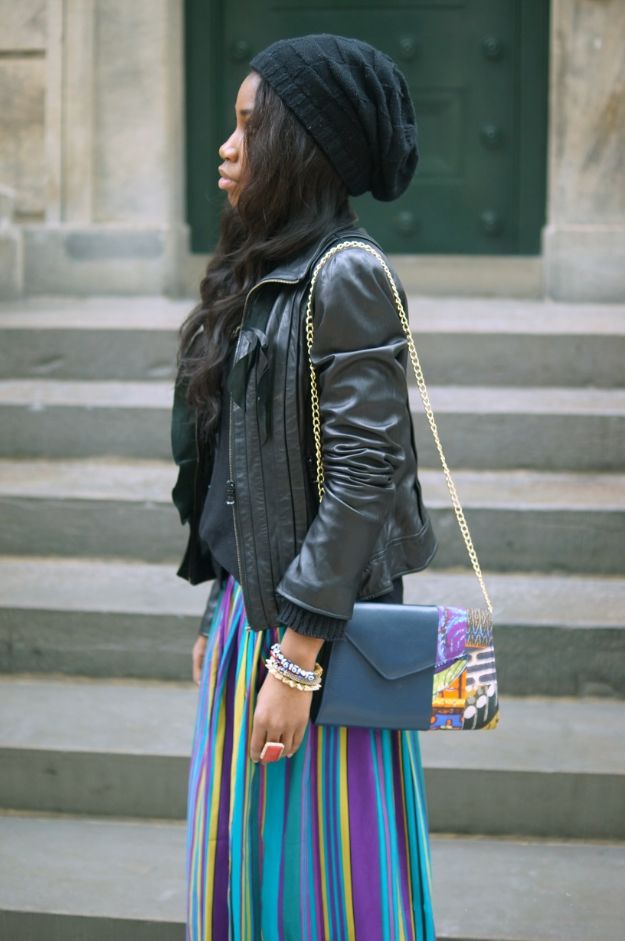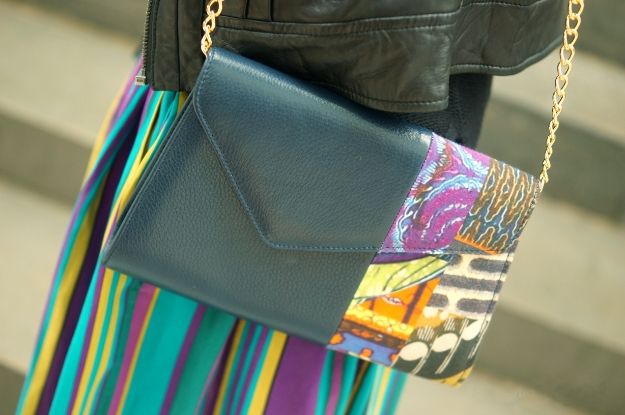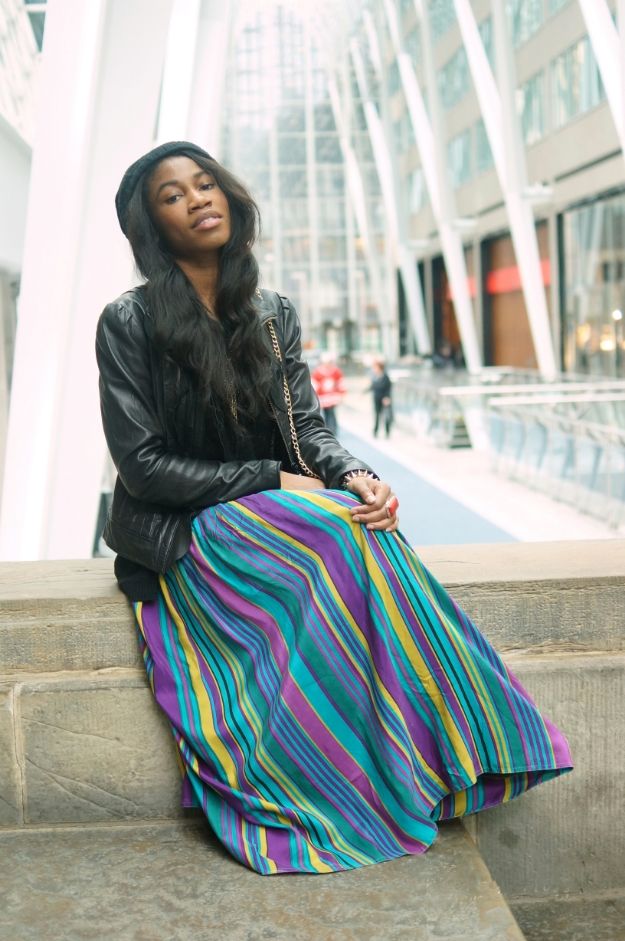 Today's thrift style challenge was maxi skirts. For those living in areas where it's currently cold, me included,your probably thinking, "so not appropriate for this weather". However, you will be surprised how much layers you can hide under your long skirt, and keep warm with. I brought this skirt some time ago and was drawn to it by its unconventional color combo. I decided to keep it simple and pair it with a black sweater, a leather jacket and a luxury leather clutch with a funky print.
The clutch is by Mefie UK , a company that began in 2012, as a lifestyle brand that focused on handbags and housewares using African prints and weaves. The company's vision is to create a brand that showcases the beauty of African crafts in a way that can be appreciated worldwide and to celebrate the individuals that make them.
I personally got to speak and meet with the designer who was visiting from London and was in awe with her fashion sense, vision, and the quality of her bags. I also liked that she was creating jobs in countries such as Madagascar and Ghana.
I have so many favourite bags and pillows that I saw on her site. I loved the netural color and how the print popped against the navy blue in this particular bag. I also loved that it was made of a soft leather that felt like butter. The clutch can be used during a day out or night out.
Want to see more of her beautiful handcrafted bags and housewares items? Connect with her via:
Website /Twitter / Facebook
What do you think of the look? What do you think of maxi skirts?
Please also check out the other participants of Thrift style Thursday and see how they styled their maxi skirts
Spoolish // Being Zhenya // Sandpaper Kisses // Buttonsandbirdcages // The two cent chick //
Alligatortoe // Snippetswithalex
Outfit Information
Sweater: Dynamite (old)
Leather Jacket: Guess (old)
Maxi Skirt (thrifted)
Clutch: Mefie UK
Don`t forget to keep connected,
Google + // Twitter // Instagram