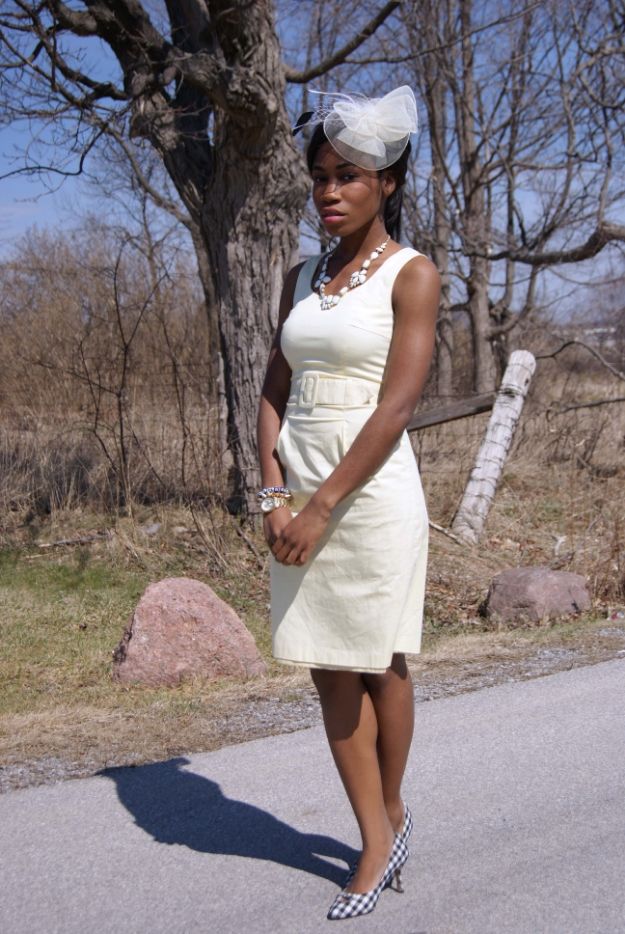 Although today's theme for Thrift Style Thursday is cocktail hour, in this outfit I feel like I'm doing more than cocktails but heading to the royal palace for some high tea or watching the horse races at the Kentucky derby–which, funny enough, is the occasion I created this outfit for. However, I thought I would share it with you all a bit early. When I think of the Kentucky Derby, I think horse racing, women in pretty cocktail dresses, big hats and fascinators. The big race starts on May 3rd, 2014 and I can hardly wait! Don't forget to stay connected on instagam because I will be sharing pictures! If there is anyone from Kentucky or anyone who has been to the Derby, please let me know how you liked it or if you have any tips for a newbie!
The dress is an oldie but goodie from H&M, in a pastel/pale yellow colour, and works beautifully for Spring and Easter. The fascinator, is my favorite part of the outfit. I have been anxiously awaiting the perfect opportunity to wear it for a second time. I purchased it a year or more ago. The shoes are thrifted, so I may have cheated a little this week. If anyone is interested in joining Thrift Style Thursday, please email me. Next week will be boho chic!
I took a very short break to rest after finishing school for the year. It's crazy how exhausted finals can make you, but I will be back in a couple of days!
Happy Easter!
So what do you think? Will you be rocking a fascinator to your next cocktail party?
Outfit Information:
Fascinator: China Town
Dress: H&M (old)
Heels: Thrifted
Necklace: from a clothing swap
See how the other ladies styled the cocktail hour look below:
Alligator Toe // Being Zhenya // Buttons and Birdcages // Eclecticity // Erika's Style Diary // Sandpaper Kisses // Sistas From Cali // Snippets with Alex // Spoolish // The Two Cent Chick // Confessions of a Refashionista
Let's Stay Connected
Google + // Twitter // Instagram