Hello everyone!
Hope everyone is doing well, and that those who attended the Black Friday sales last week survived the frenzy. I heard the crowds and lines were hectic as usual. Things have been hectic for me as well, I had exams this week and last week, which took up a huge portion of my time. However, they are now finally over and I can breathe easy.
Today's outfit is all about the luxe sweatshirt. The luxe sweatshirt trended a lot in the fall season with major fashion houses releasing their own versions, such as Givenchy releasing their Givenchy's Bambi luxe sweatshirt . The luxe sweatshirt is a more glamorous and chic take on the humble sweatshirt. When I first saw this sweater last year, I had to have it. The sweater is a cross between edgy with the spike accents and cute with the cat face design.
My apologies for missing this week's Thrift Thursday, but do check out the other participants; this week's theme was polka dots. I shall be back really soon with some exciting things to come, so please stay tuned!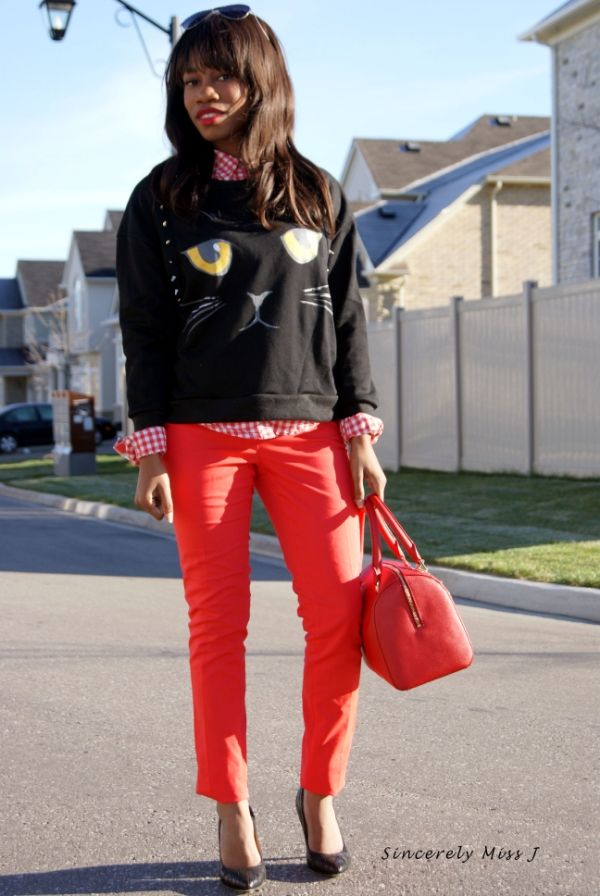 Please check out the other participants of Thrift Thursday and see how they rocked polka dots
Spoolish // Being Zhenya // Sandpaper Kisses // Buttonsandbirdcages // The two cent chick //
Alligatortoe // Snippetswithalex
Outfit Information
Blouse: Thrifted
Sweatshirt: Mode Star
Pants: H&M
Heels: Thrifted
Bag: Winners (DKNY)