Well hello there, its been a while..
I hope everyone is doing well and ready for the New Year!
The hustle and bustle of the holidays is final over, and I'm slowly returning to my regular routines. January also marks the anniversary of when I first
started this blog, as my 2011 New Year's resolution. However, I fell off the wagon in 2012, but bounced back and went hard in 2013. I have seen what putting
a bit more effort into something can do, and setting goals. I want to continue
to make this corner of the internet, a place where you can visit, get inspired and realize that style
is not dependent on the amount of money you have, who you know, and what you
get. It's all about creativity, vision, and confidence. Please, look out for more personal style
posts, but also beauty reviews, contests, and collaborations. For 2014, I will
definitely be taking more risks. Thank you for the support guys!!
For special occasions, sequins and
glitter are usually the dress code of choice. However, why not extend the glamour beyond a special occasion. Why not sparkle on, any time of the year. I paired this black
sequin leggings/pants with my favourite Smartset peplum top and added a statement necklace. You can make this look more causal or more
dressy and wear it anytime and any day.
Today is also Thrift style Thursday, and the theme is leather. So, today I'm featuring these fab leather heels. This picture was taken back when the weather was a bit warmer, hence why I'm wearing open toed heels. I was driving, so it was not a problem, but with the recent temperature drop to beyond freezing, I would not try the open toed look now. A nice pair of black ankle boots is another good option. I also opted for clear nail polish, with a pink flower painted on the toe, all that effort and it was not even captured in the pictures, oh well.
So what do you think, would you rock sequins or sparkles during the day?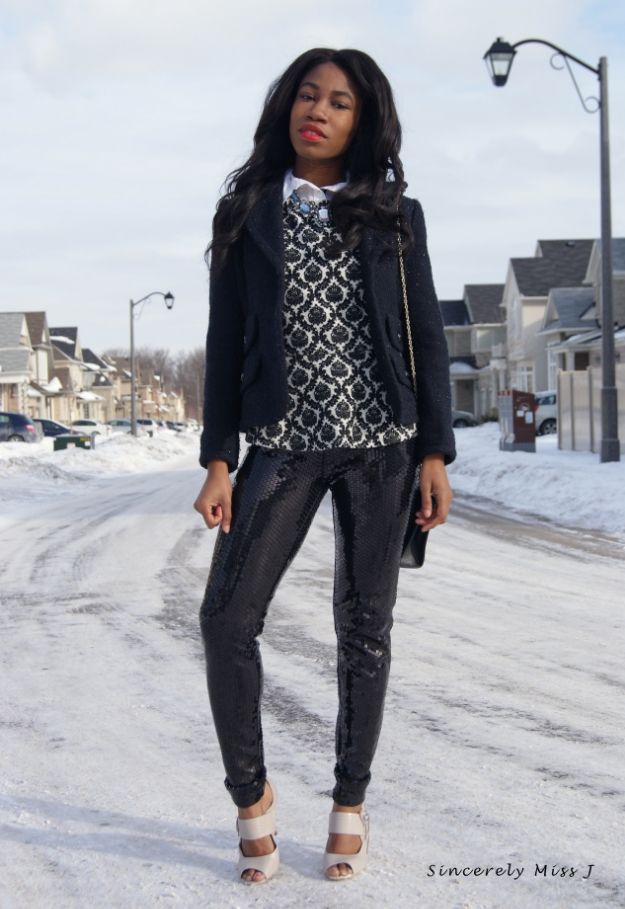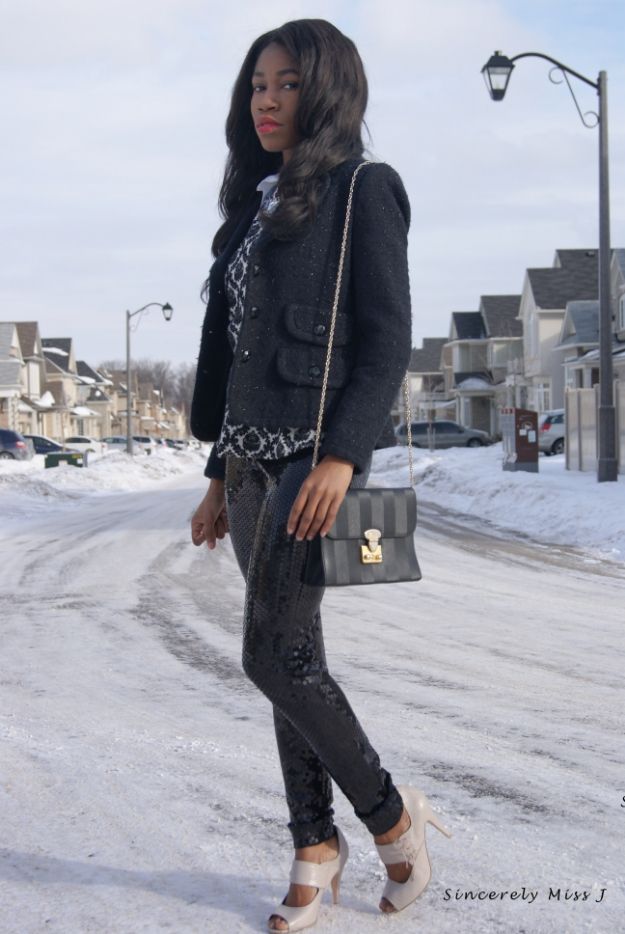 Please check out the other participants of Thrift style Thursday and see how they rocked leather
Spoolish // Being Zhenya // Sandpaper Kisses // Buttonsandbirdcages // The two cent chick //
Alligatortoe // Snippetswithalex
Outfit Information:
Blazer: Thrifted
Peplum Top: c/o Smart Set (still available in stores)
White shirt: Urban Behaviour
Necklace: SuzyShier
Sequin leggings (old): Winners, similar
here
Shoes: Thrifted
Bag: Thrifted
Connect with Me
Google + // Twitter // Instagram