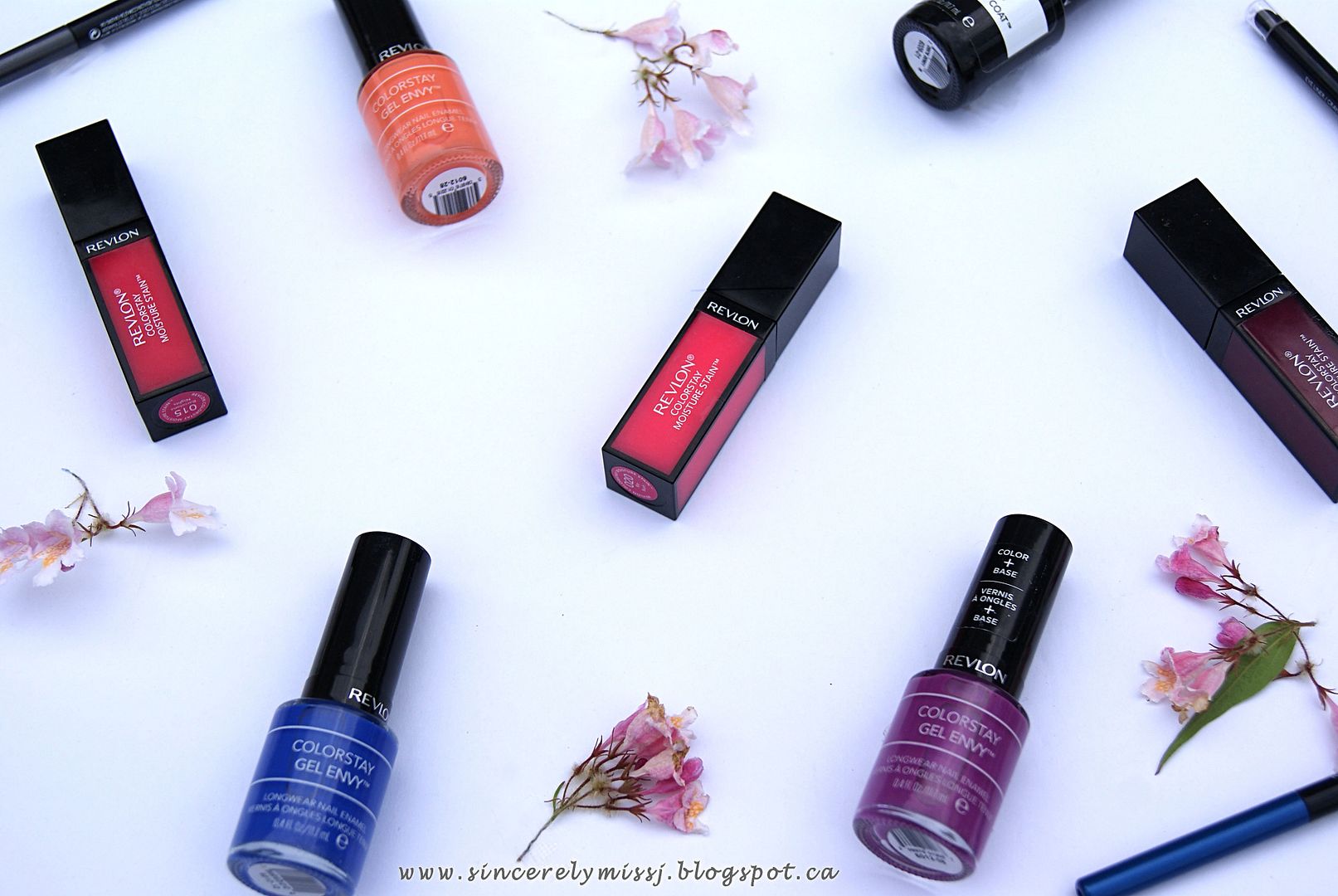 Summer is here and with a new season marks a slight change in one's beauty routine. Today on the blog I'm talking beauty with Revlon ColorStay makeup.
Last month I had the opportunity to
preview some new products being introduced to the Revlon ColorStay makeup collection. I had an opportunity
to try everything from foundations to eye, nail and lip products. However, today I wanted to share and highlight two of my favorite products; Revlon ColorStay Moisture Stain, and Revlon ColorStay Gel Envy nail polish. The collection is currently being sold in many drugstores in both the US and in Canada and I highly encourage you all to head to your local drugstore and try them out.
Revlon ColorStay Moisture Stain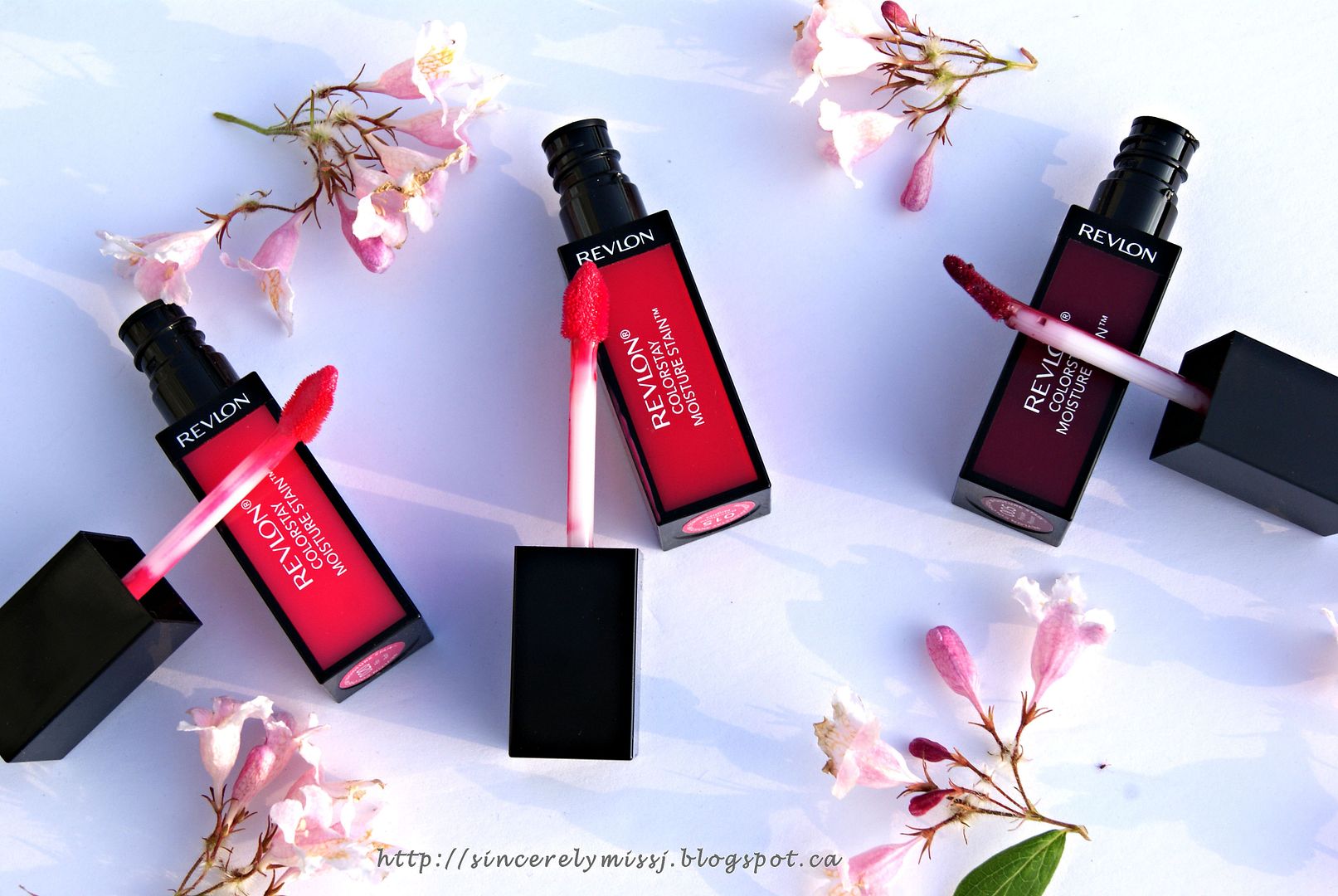 From left to right: 020 Rio Rush, 015 Barcelona Nights, 005 Parisian Passion
At all times I must always have some kind of lip color on my lips or else I feel
completely naked. However, sometimes I like to deviant from bright, matte, and
pigmented lipsticks to something light and glossy.
Revlon ColorStay has introduced a lip stain that
is infused with Vitamin E and aloe to moisturize the lips without stickiness. The lip stain is available in 12 shades and are packaged in a light sleek rectangular tube.

Top left: 020 Rio Rush, 005 Parisian Passion, 015 Barcelona Nights (

Fuchsia

)
What I like about the product:
1.
It's pigmented enough to give some color to the lips
2.
It' s indeed moisturizing and leaves a beautiful glossy finish without major stickiness even after an hour of wear
3.
I love the thickness of the application brush which makes applying the stain easy to apply
4. I love the texture of this product, it has a slippery feel oppose to a thick sticky feel on my lips
5. Fair price point at $12.95 ( Canadian)
Revlon ColorStay Gel Envy Nail Polish
Available now in stores both in Canada and the US are Revlon ColorStay
gel envy nail polishes. The collection comes in 30 vibrant shades and one top
coat. It's a two step system that consists of a ColorStay gel envy nail color/base and secondly a top
coat.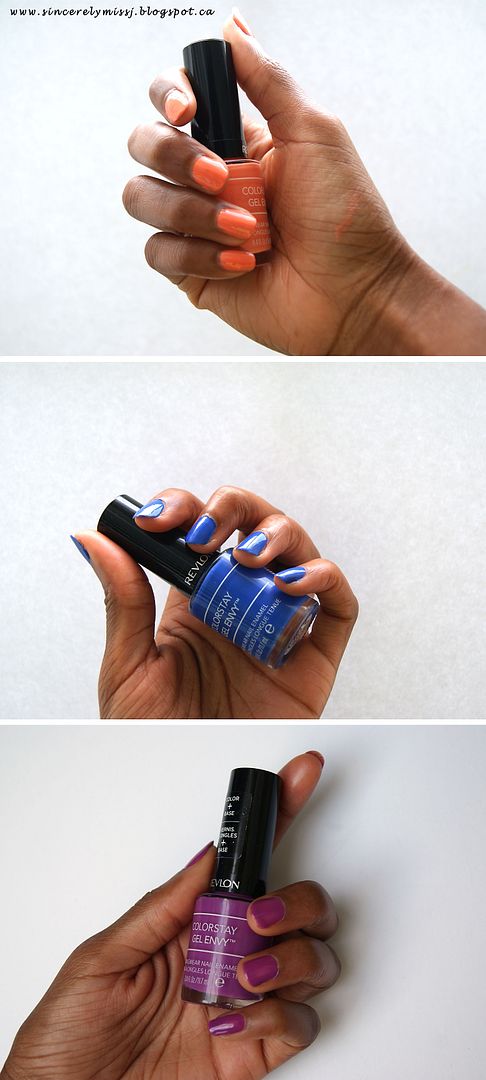 Top to bottom: 640 Jokers Wild, 440 Wild Card, 410 Up the Ante
What I like about the product:
1.
I like the two step system (color/base coat & top coat) oppose to the three step system (base coat, color & top coat) which was very time consuming to apply
2.
The colors are very vibrant and depending on the color you use, you may only need one coat before applying the top coat
3.
The price is reasonable at $7.95 (Canadian)
4. Provides a gel like finish at home
I hope you enjoyed my mini review, and if you want to see more Revlon ColorStay products or need more information please go to https://www.revlon.ca
Have you tried any of the new Revlon ColorStay products? What do you think?
Until Next Time,
Sincerely Miss J
Let's Stay Connected
Google + // Twitter // Instagram
*Although, these products were provided to me to sample, this is my honest review*