Hello everyone!
Christmas is quickly approaching and if you are anything like me, you have yet to start your Christmas shopping or are still stumped on what to buy your loved ones. You could take the safe route and grab that gift card or you could continue to search for that perfect gift. Here is a quick 'for her' and 'for him' gift guide that may spark some inspiration. All the links are provided below which lead to the website with that exact item.
When shopping for women I find it kind of difficult. I tend to get distracted and end up buying for myself instead. I generally, try to stay away from clothing items except for things like pjs and robes because the fit for those items are pretty straight forward.
This year, try looking for accessories such as umbrellas and jewellery, or try beauty or skin care products. Gift sets are also great, like the Benefit cosmetics one, which allows that person to enjoy several items than just one. I personally really love the Porefessional product that comes in this kit. I also just discovered the MaskerAide facial masks that are great stocking stuffers for someone who prefers eco-friendly, vegan, and paraben free products. Lastly, do not forget those tech savvy women, whose wish list may consist of an iPad, and other high tech devices. Hint! Hint! to my family and friends reading this post!
When shopping for men, I always find it easier and quite fun.There's only a few times per year that I get to head over to the men's department to discover what they have. The men in my family are pretty laid back and sizing is never an issue, so I can look and make an educated guess. I was also notified of a brand called Bonobos that specializes in menswear and when I went to their website (click here); I was really impressed with their items. They do have store locations across the United States but they also offer shipping! When I went on their website there was an extensive gift guide that really helped me come up with some great gift ideas and can make the search for that perfect gift that much easier.
What are some of your go to gifts this Christmas season for the women and men in your lives?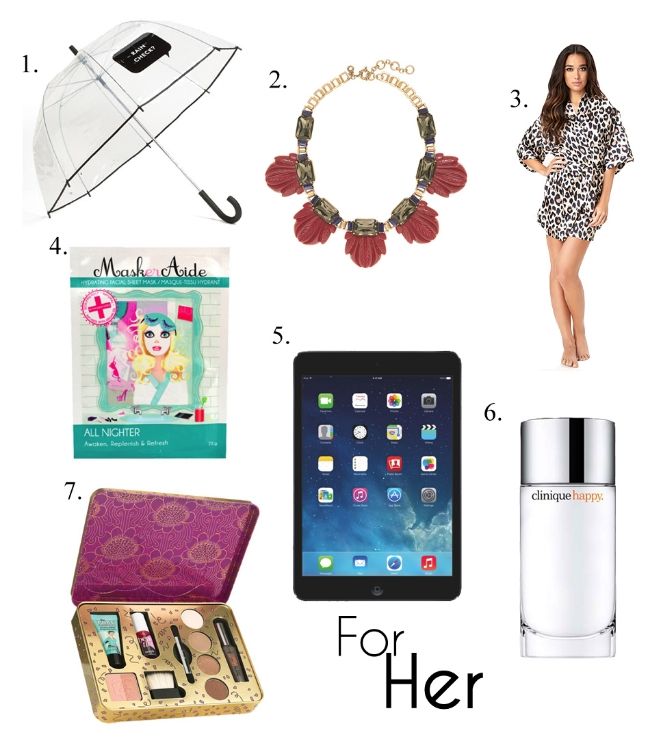 1. Kate Spade New York Umbrella // 2. J Crew Fanned leaf necklace // 3. Forever 21 Robe // 4. MaskerAide facial sheet Mask // 5. Apple iPad mini // 6. Clinique " Happy" Fragrance // 7. Benefit Cosmetics Make up kit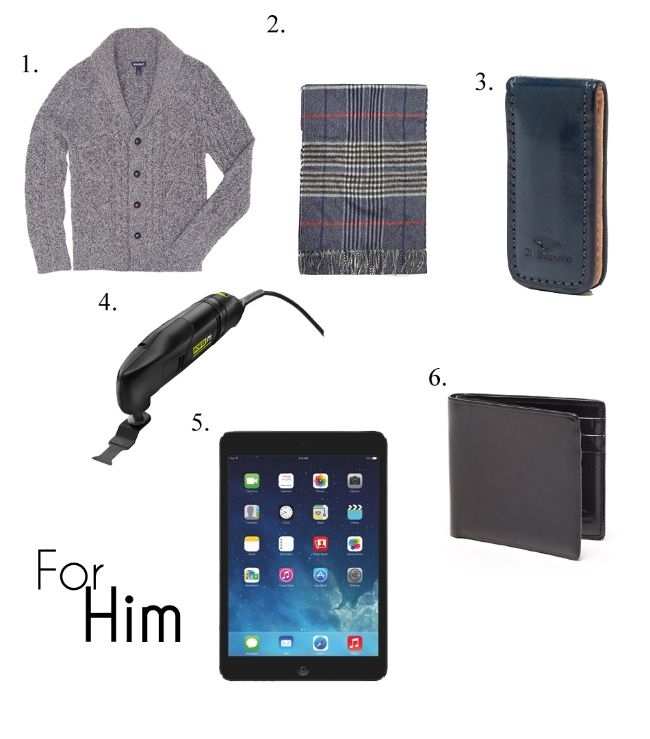 1. Bonobos: Livingstone cardigan // 2. Bonobos: Suffolk Scarf // 3. Bonobos: Bill Clip // 4. Multi-Tool 5. Apple iPad mini // 6. Bonobos: Wallet
Until Next time,
Sincerely Miss J