Hello ladies and gents,
It's Thursday and I can't believe how quickly this week has flown by. As you know, today is thrift Thursday's (TTs) and today's theme is menswear.
So, if you missed the whole concept behind thrift Thursdays (TTs) here it is: it's a day where some other bloggers and I, share one or a few of our thrift finds, and style it according to the theme. For me personally, I love mixing my thrift finds and things I buy at regular stores. Building your wardrobe and style should never hold you back if you are on a budget. Mixing high and lows, and rocking it confidently is all you need. If you want to join please add me on
twitter: https://twitter.com/sincerelymissj
Now, onto the main order of business. When, I think of menswear, I picture a tailored power suit. Unfortunately, my dream power suit would be fitted and patterned but I'm still searching for it. Instead I opted for separates with a navy blue blazer and forest green dress pants. I really enjoyed this outfit combination and felt so lady like in it, even though it had a bit of a masculine flair. On this particular day it was really cold and windy so I threw my jacket over my shoulders.
Like the menswear look? Here are some tips to help create your own chic outfit
1. Don't loose yourself in the fit: Try slim fitting trousers and tailored blazers
2. Opt for heels rather then flats: it elongates the legs
3. Add a girly element: here I opted for a flower patterned shirt. However, the possibilities are endless. Ex. add a statement necklace or the color pink.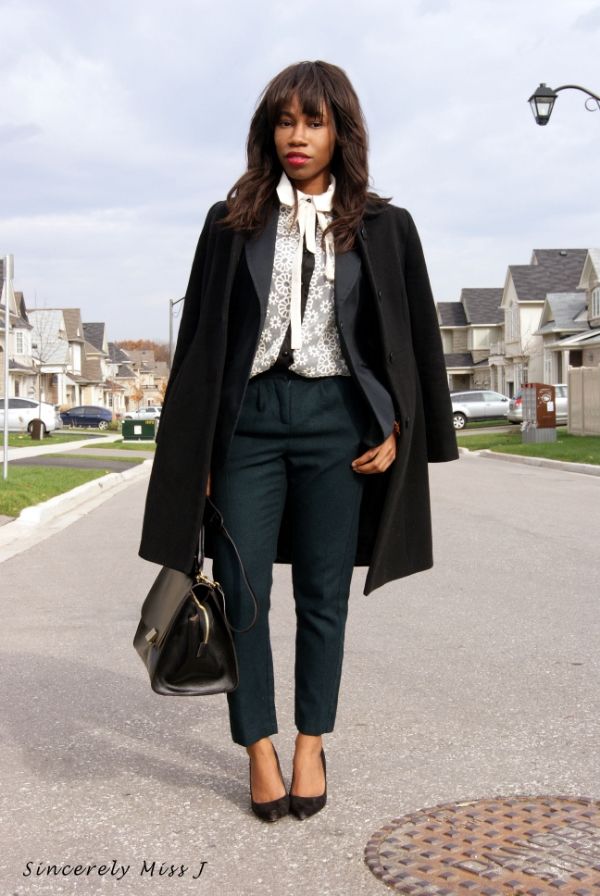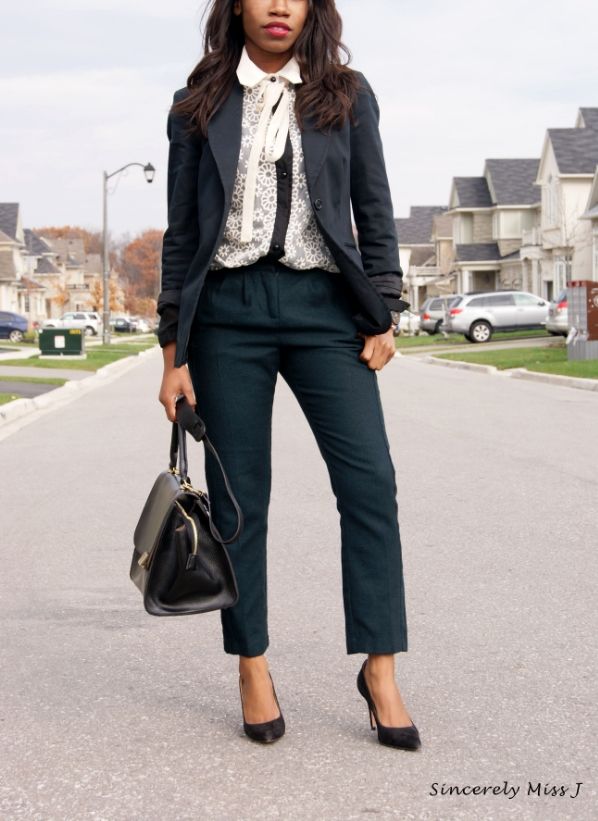 Please check out the other participants of Thrift Thursday and see how their rocked menswear
Spoolish // Being Zhenya // Sandpaper Kisses // Buttonsandbirdcages // The two cent chick //
Hoped you enjoyed the post
I shall be back very soon, so keep visiting
Outfit Information:
Blouse: Mode Star
Blazer (United Colors of Benetton)- Thrifted
Coat: Anne Klein
Pants: (TopShop)- Thrifted
Heels: Thrifted
Bag: Kijiji