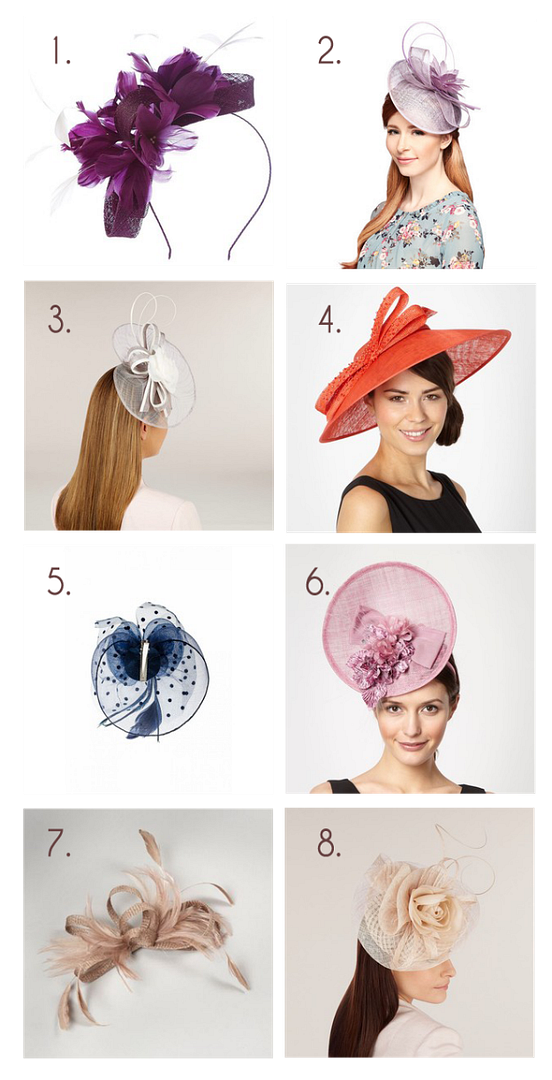 1. $115 CAD houseoffraser.co.uk // 2. $41 CAD modcloth.com // 3. $115 CAD debenhams.com
// 4. $105 CAD debenhams.com //5. $18 CAD debenhams.com // 6. $120 CAD debenhams.com // 7. $120 CAD debenhams.com//
8. $115 CAD debenhams.com
Note: all prices are in Canadian dollars,but prices are available in other currency. Also, try ebay or try your hand at a DIY fascinator!
This post was inspired by the previous post, "Cocktail Hour", if you have not gotten a chance to read it, you can find it (here). It looks like the fascinator was a hit, through both blog and in person comments. I thought I would share with you a few that I've been currently drooling over. Fascinators, are decorative hair accessories usually worn to formal events such as weddings. They come in a variety of colours, shapes, and sizes and are often adorned with feathers, bows, lace, and various other materials. Some are more like hats, others headbands, and some are just clips. Often, when individuals think of fascinators, two words usual pop into mind "royal family", however, anyone can wear them. From the most flamboyant fashionista on a daily basis to the everyday individual looking to spice up their attire for a formal event, there is a fascinator for everyone. Why are they great? Well, when you find one that best represents an occasion and your personality it transforms a simple dress into something magical.
So, are you brave enough to rock some of these extreme hair accessories? Which one do you like best?
Let's Stay Connected
Google + // Twitter // Instagram