Summer is in full swing and with warmer weather comes the luxuries of sunshine, BBQs, beaches, outdoor events and much more. The summer uniform should always be comfortable, stylish, protective, and easy to wear. Today we are talking about 8 summer wardrobe essentials . If you do not have any of these items already in your closet, don't worry! Sale season is here, which marks the perfect time to grab one or maybe two of these items. Here are 8 essential summer wardrobe pieces in additional to the most obvious, summer shades.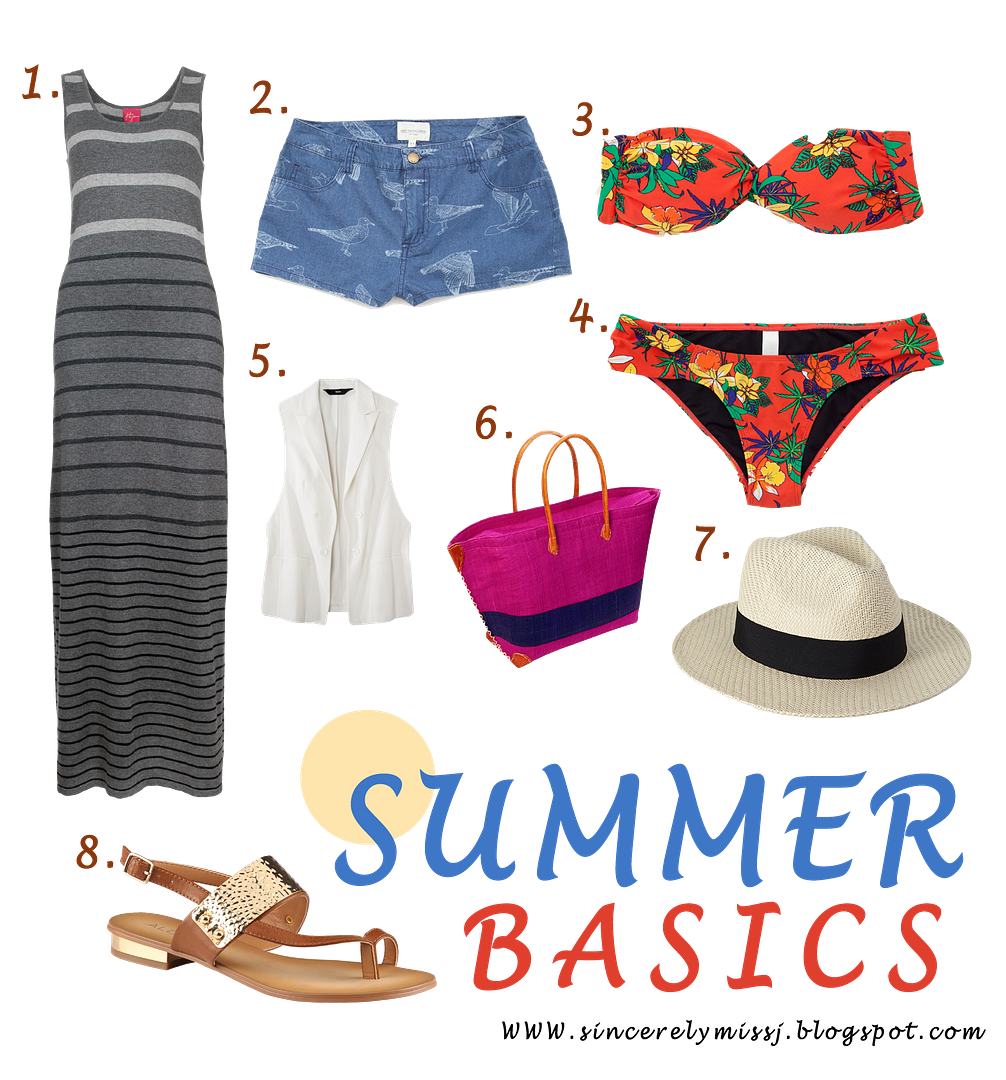 1. A summer dress: Personally, I love maxi dresses that are easy to slip on and go!
Pictured: Line Knit Wear Maxi dress
2. Jean shorts: Whether you prefer the boyfriend style or daisy dukes, jean shorts are a great basic item.
Love these fun patterned OBEY shorts.
Pictured: OBEY jean shorts
3 & 4. A bathing suit: A bathing suit is a must have when lounging on the beach or having fun in the water. A simple black one is great but why not try something fun! A two piece over a one piece suit also provides for more versatility by allowing you to mix and match the pieces.
Pictured: OBEY two piece bathing suit
5. A summer vest: Perfect for summer layering.
Pictured: Target White Vest
6. A tote handbag: Great for carrying beach essentials or for day events
Pictured: Anansi RAFFIA TOTE BAG
7. Hats: Are a must have to help protect yourself from the sun, and also add interest to any outfit.
Pictured: Forever 21 Panama Straw Hat
8. Sandals: A good pair of comfortable sandals is a great basic for showing off that perfect pedicure, while allowing your feet to breathe during the summer months.
Pictured: Aldo Sandals
What are some of your summer wardrobe essentials?
What items do you need to add to your summer wardrobe?
Until Next time,
Sincerely Miss J
Let's Stay Connected:
Google + // Twitter // Instagram