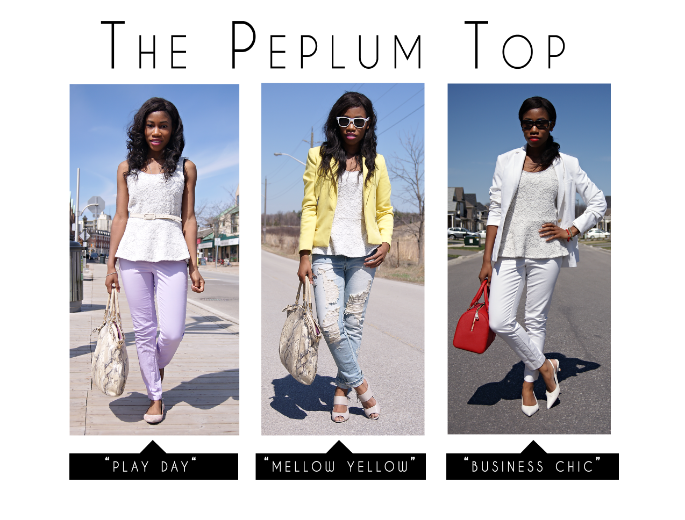 The word "versatility" means capable of many uses. Recently, I have been using this concept to guide me whenever I'm thinking of purchasing
anything. Lately, I have been able to resist buying impulsively, and ask myself everytime ; 1. "I'm I going to utilize this item a lot?" and 2. "Do I have something similar
already?" Therefore, I thought it would be awesome to start a new segment,
called 1 item, 3 ways to wear it. I'm hoping to do it on Mondays twice a month
or monthly. The ability to full your closet with versatile pieces, ultimately allows
you to stay stylish, creative and utilize your closet. Therefore, in the end saving you a lot of money. If you choose your pieces wisely, you don't need to buy more.
Today I'm featuring a peplum top courtesy of Express Clothing . Peplum tops have been dominating the runways for multiple seasons and have found their way into the closets of many fashionistas' around the world. I love this one because it's a neutral colour (white & grey), and has a interesting floral pattern great for the spring and many seasons to come. However, it also has a hint of neon on it's zipper, making it fun too. I paired this peplum top with
different looks consisting of pants only because it's still very cold here in Toronto, but it can be paired with a pencil skirt, full skirt or shorts to make endless outfit combos!
See the three ways I styled this top below!
Look #1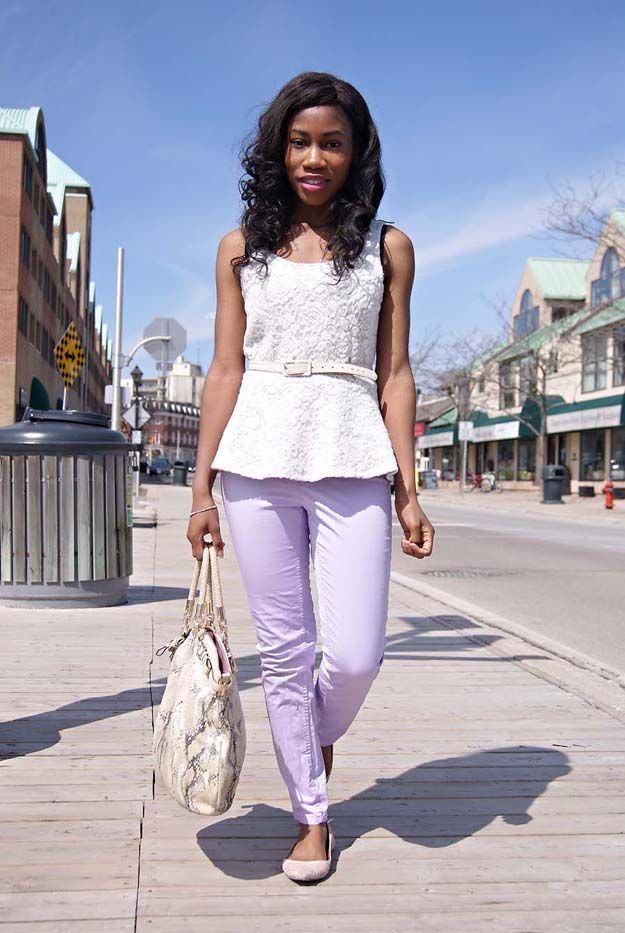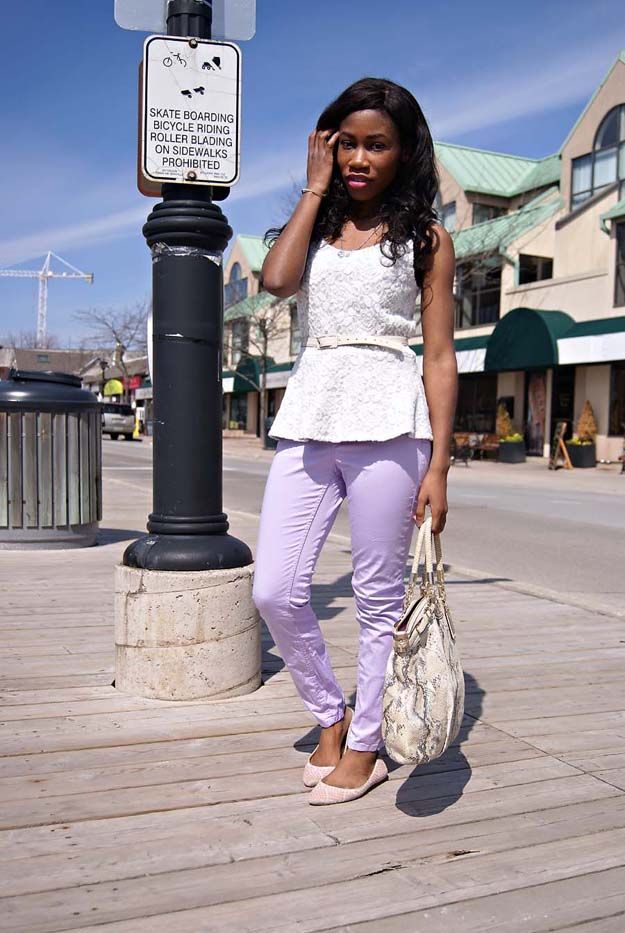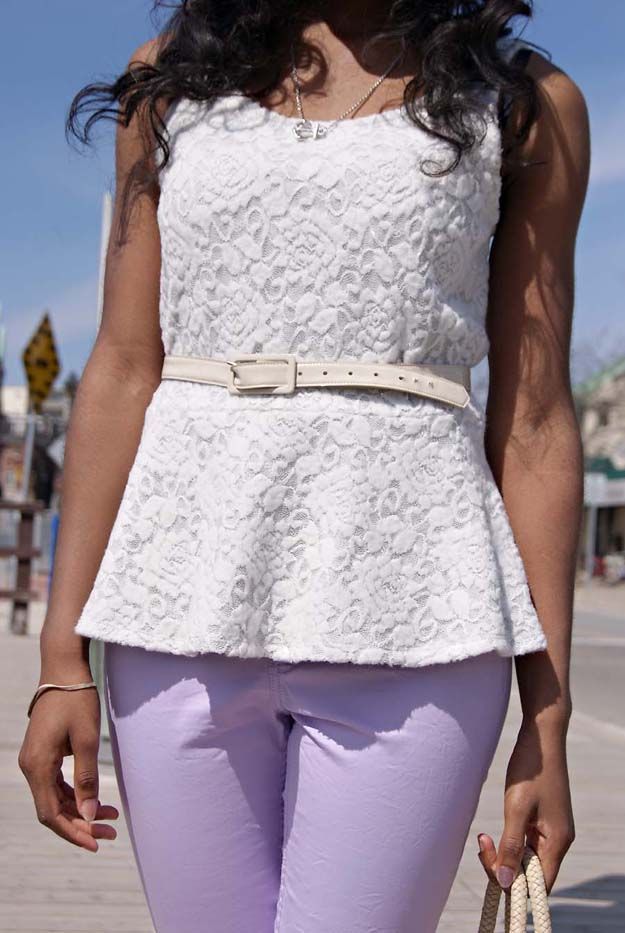 This look is a fun one,
hence why it's called play day. The weather that day was really warm and fit to show a little arm action .I partnered the top up with these pretty lilac pants to create a very causal
and care free look. I added a belt to add some more
interest.
Outfit Information:

Top: c/o Express// Pants: H&M (old) // Flats: Winners // Bag: Coach // Belt: Thrifted
Outfit #2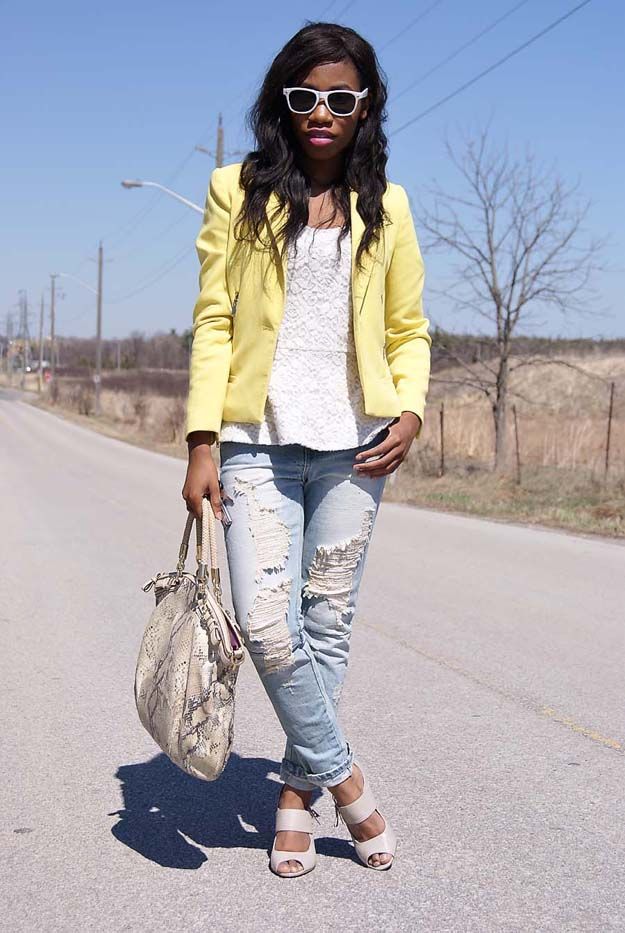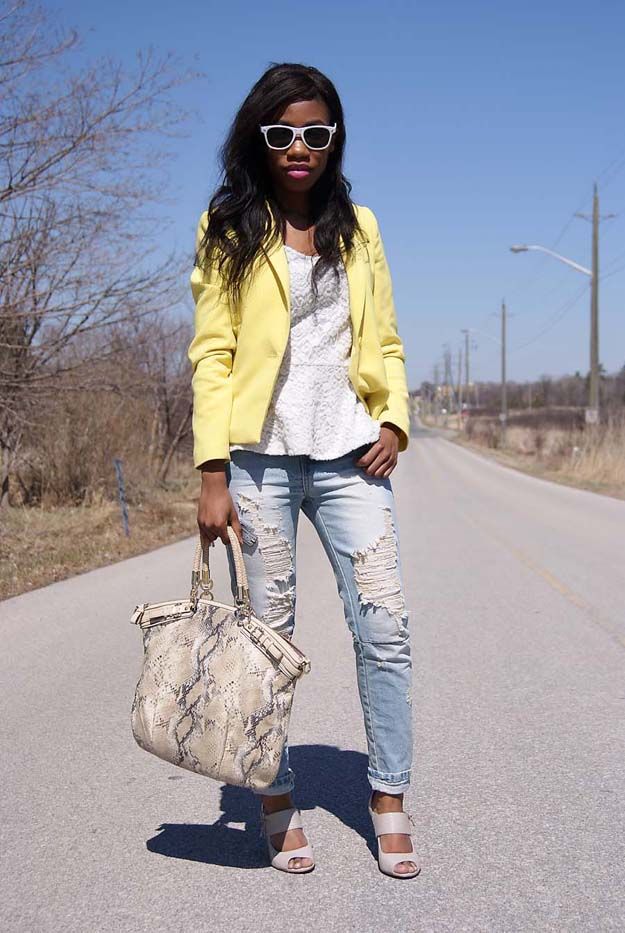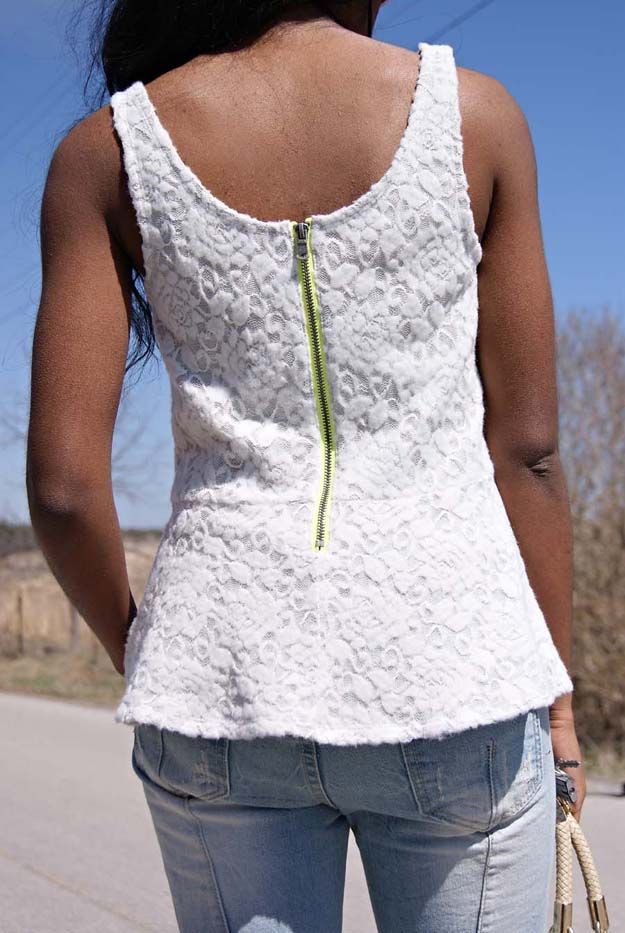 Pairing some distressed jeans, heels, and a bright blazer gives this outfit a mellow but more polished look than the first outfit. Great for a lunch date with
friends or some weekend adventures.
Outfit Information:
Top: c/o Express // Blazer: Zara // Jeans: Thrifted // Heels: thrifted // Bag: Coach // Sunglasses:Gifted
Outfit #3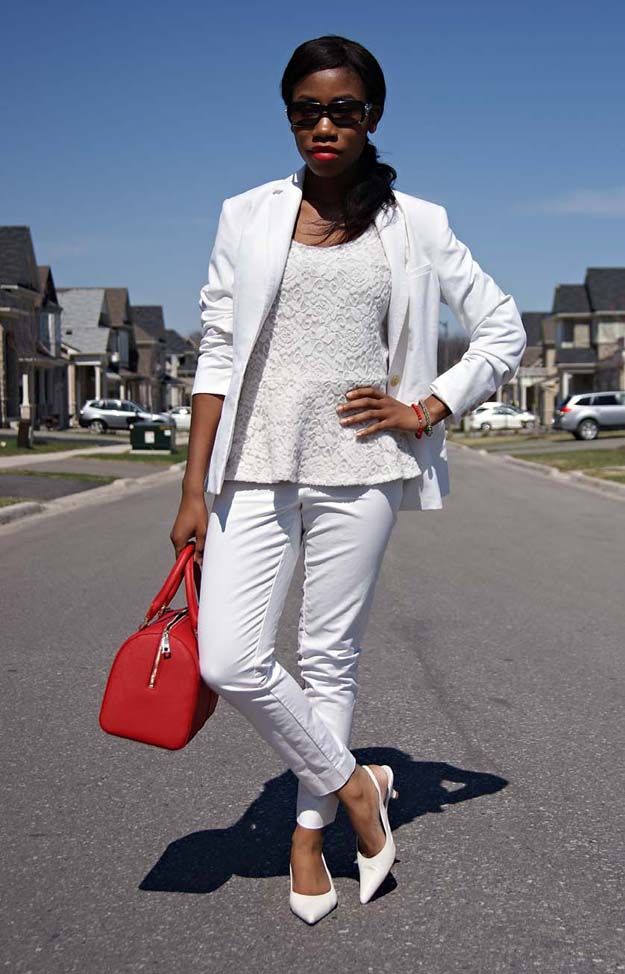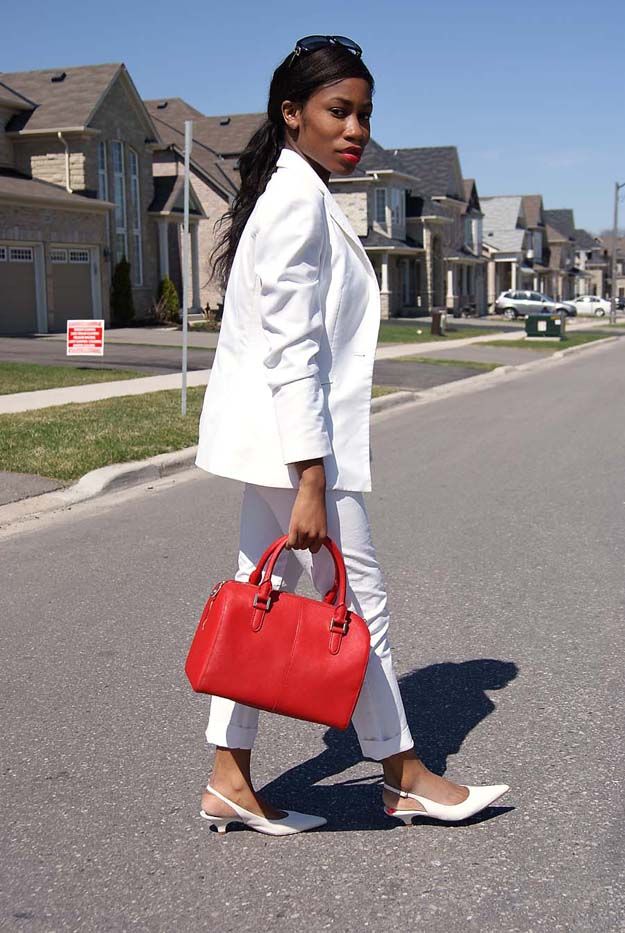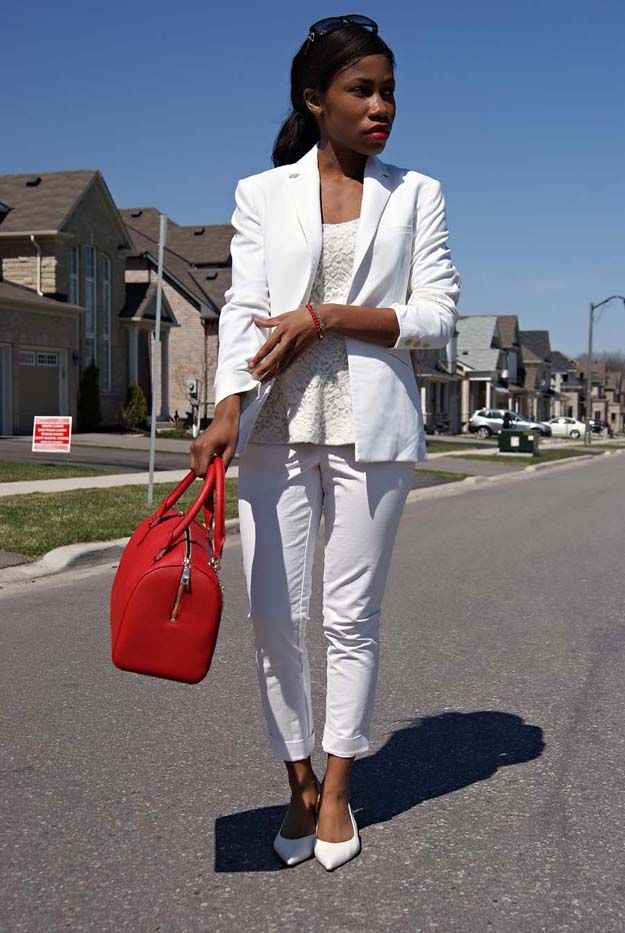 This business/ corporate look plays on the all white spring trend. However, the grey and the pattern in the peplum top does a great job in adding some more texture and dimension to the look. I also added some red accents to add a pop of colour.
Outfit Information:
Top: c/o Express // Blazer: Thrifted // Pants: Joe Fresh // Bag : Winners (DKNY) // Heels: Thrifted
I really hope you liked this post, and that it gave you some styling ideas. Unfortunately, I currently have the flu, and I'm leaving town for not very long. However, I will try my best to check in as often as I can if I'm feeling better, but do stay connected on other social media platforms listed below. Be back very soon!
So, which outfit did you like the best? How do you style your peplum tops? What future items would you like to see styled in this segment?
Until Next Time,
Sincerely Miss J
Stay Connected
Google + // Twitter // Instagram